IDEAglobal & Reuters Seminar in Singapore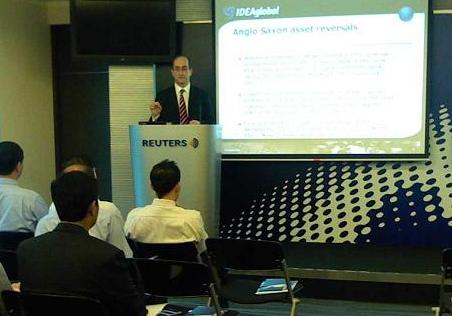 On 6th March 2008 a seminar on " Anglo Saxon Economies, other OECD and Emerging markets : V or W shaped trajectories" was held at Singapore under the aegis of IDEAglobal and Reuters. The seminar brought together representatives from Banking and Financial community. Amongst those eminently present were Mr Michael Gallagher, Director Research-IDEAglobal, Mr Edward Haddad, MD Reuters-ASEAN and Mr Dan Schifer, MD Reuters – Singapore. The Key note address was delivered by Mr Michael Gallagher who is an expert on European policy and market issues and is known for his "hands on" experience of providing guidance on policy and financial market movements to Central Banks and Governments worldwide. The seminar succeeded in providing a holistic insight to the economies of Anglo Saxon, OECD and emerging markets besides imparting investment themes and ideas.
More IDEAglobal Information
IDEAglobal Public Relations
Contact IDEAglobal public relations to schedule interviews with our analysts, speak with management, and more.